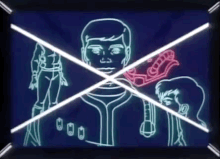 Gloria Baker is the sole female agent of M.A.S.K.. Her vehicle is a Porsche 928 (Codename:Shark) that transformes into a submarine and a Lamborghini Countach (Codename: Stiletto) that transformes into a glider/helicopter. She is also the co-pilot of Gator, driven by Dusty Hayes. She is a champion race car driver with a black belt in Kung-Fu.
Activities with M.A.S.K.
Edit
Gloria Baker appeared in 31 episodes, debuting in Episode 2, "The Star Chariot". She has appeared in more episodes than most M.A.S.K. characters, behind Matt Trakker (70), Bruce Sato (40), and Alex Sector (37). 
Personality
Edit
"Aura, on!"
"Hi Scott, Hi T-Bob. Did your father allow you to go on a mission?" (Dinosaur Boy)
"Sounds like good company for VENOM." (Dinosaur Boy)
"No, but for a moment there, i'd thought i'd spend the rest of my life married to Shark!" (Ghost Bomb)
Episode Appearances
Edit
Action Figure
Edit
Packed with New Collider Mask and Stiletto
Behind the Scenes
Edit
Gloria Baker was voiced by Sharon Noble.
External Links
Edit