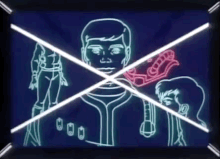 Gloria Baker is the sole female agent of M.A.S.K..
According to the M.A.S.K. Computer in the episode The Artemis Enigma, Gloria received a college education in Athens, Greece.
Gloria Baker appeared in 31 episodes, debuting in Episode 2, "The Star Chariot". She has appeared in more episodes than most M.A.S.K. characters, behind Matt Trakker (70), Bruce Sato (40), and Alex Sector (37). 
Champion Race Driver
Black Belt in Kung Fu
Black Belt in Karate
Knowledge of structural engineering
Background in Archaeology
College education in Athens
Former student of anthropology
"Aura, on!"
"Hi Scott, Hi T-Bob. Did your father allow you to go on a mission?" (Dinosaur Boy)
"Sounds like good company for VENOM." (Dinosaur Boy)
"No, but for a moment there, i'd thought i'd spend the rest of my life married to Shark!" (Ghost Bomb)
Packed with New Collider Mask and Stiletto
Gloria Baker was voiced by Sharon Noble who also voiced Vanessa Warfield.
Community content is available under
CC-BY-SA
unless otherwise noted.